At the end of 2013, Aaron and Chris got to sit down in-person with a guest that had been on their wish-list since, basically, the inception of the podcast. Today, we're happy to share the first half of the conversation.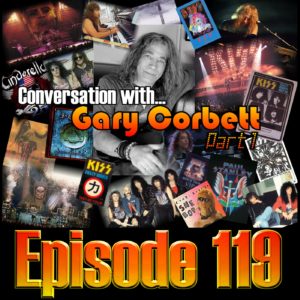 Gary Corbett may not be a household name along the lines of Gene Simmons, Paul Stanley, Tom Keifer of Cinderella, or Cyndi Lauper but he's worked closely with all of them. In part 1 of this long-form discussion, Gary shares his experiences in the music business working with Cinderella and KISS.
The discussion opens with Chris telling Gary about seeing, or more appropriately hearing, him perform with KISS in Nashville on the Hot in the Shade tour. Gary goes on to share how he wound up relocating to Nashville from New York years ago and also talks about the Scrap Metal project that he's been part of with also-Nashville-resident Mark Slaughter, Scrap Metal.
We then discuss the announcement of KISS' upcoming induction into the Rock and Roll Hall of Fame and Gary's thoughts on who still deserves to be in the museum.
Gary shares the story of how he was brought into the KISS fold during pre-production for the 'Crazy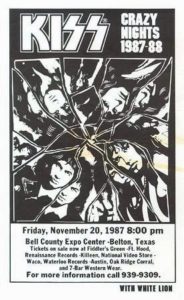 Nights' album. He was then brought in to tour for the 'Crazy Nights' tour and he recounts the struggles the band went through on the road due to low ticket sales in the face of dismal returns on the album.
Soundcheck for KISS is a time when the band members can cut loose away from the audience while still being on stage. Unfortunately for Gary, his first tour with the band didn't provide a fun atmosphere in which to soundcheck due to Gene Simmons razzing the keyboard player in a particular way.
We go into a brief discussion of KISS' appearance at the Monsters of Rock festival in Germany in 1988 and how Gary being shown on camera during the performance led to some unpleasant vibes from Gene and Paul.
Chris, then, approaches Gary about the presence during those years of Jess Hilsen, who was Paul Stanley's therapist who wound up handling KISS' financial affairs before leaving the country amid a haze of lawsuits and bad business deals. And speaking of managers, Gary then shares how another KISS manager Larry Mazer was responsible for bringing him into the fold playing for Cinderella beginning with the Heartbreak Station tour.
We come back from the first break with some Vinnie Vincent discussion and Gary shares how he was actually at Mark Slaughter's house when news broke of Vinnie's arrest.
Another KISS connection for Gary goes back all the way to the 1970's as he crossed paths with the Kulick brothers early on. He was also a part of the mid-late 70's New York scene and was a part of the Max's Kansas City crowd.
During his time working with KISS, Gary become very close friends with Eric Carr. In this discussion, we get Gary's take on Eric's personality and some of the struggles he had with dealing with Paul Stanley and Gene Simmons' control. He would typically hang out with Gary after the shows and in this discussion he shares what Eric was like socially with fans and friends.
Eric Car went through a difficult circumstance when KISS toured Europe in 1988 as his drum solo was vetoed. This decision hit Eric very hard and Gary shares his take on who was responsible and why.
In this discussion, Gary has some very pointed things to say in regards to Paul Stanley. He also shares his thoughts on Bruce Kulick's long tenure in the band and how that took place under the control of Simmons and Stanley.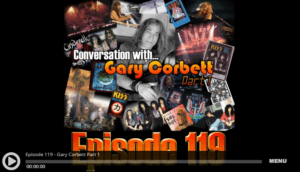 We come back from the second break with discussion of Gary's memories of his tenure with KISS and how, during the 'Crazy Nights' tour, the employment arrangements with the band were becoming troublesome due to the on-again/off-again nature. This situation came to a head and led to a standoff of sorts between Gary and the band at Nassau Coliseum.
We finish off Part 1 with a quick discussion of what it must have been like to be a roadie for KISS during the 'Crazy Nights' era. Who could forget that logo?
Click Here To Listen To Podcast