Click Here To Listen To Podcast
Former KISS keyboardist and friend of Eric Carr joins the guys this week to celebrate the life of the late drummer on the 25th anniversary of his loss. Gary joined KISS in 1987 for the Crazy Nights tour and remained with the band throughout 1990's Hot in the Shade tour. During this period he developed a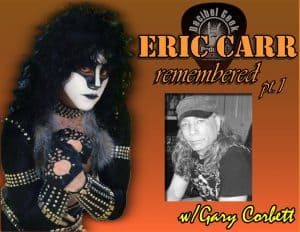 close bond with Eric Carr as the two would spend much of their free time entertaining each other on the road. In this long form talk, Gary shares stories from his friendship with Eric including some behind the scenes stories that should be new to many KISS fans.
Also, Gary shows Chris and Aaron some home videos from his days in KISS and gets their reactions. Footage viewed includes an impromptu 40th birthday party in Eric's hotel room attended by Eric, Gary, Gene Simmons, Bruce Kulick and then-girlfriend Carrie Stevens. Other candid footage discussed includes a golf outing in Ireland with Paul Stanley and a famous British singer he was dating at the time.
The guys also view and discuss some cool live footage from the Monsters of Rock tour of Europe in 1988 as well as shows on the Hot in the Shade tour. This conversation went very long and was a lot of fun thus, the necessity to break it up into parts. Part 1 is just the tip of the iceberg as there's much more Eric Carr and KISS talk to come in Part 2. We hope you enjoy Eric Carr Remembered with Gary Corbett Pt1 and SHARE with a friend!
Click Here To Listen To Podcast