The guys are back this week to pick up where they left off with Gary Corbett reliving more Eric Carr memories. The conversation picks up with much more home video commentary including KISS'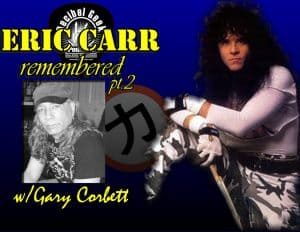 appearance at the Monsters of Rock festival in 1988, run ins with wild fans in Budapest Hungary, a strange trip to Iceland, and much more video from the road.
The guys also wrap things up with a discussion with Gary about what Eric would think about the music business these days, what he would be doing if he were around today, as well as talk about a long-rumored reunion tour in 1990 that didn't come to fruition. The Decibel Geek podcast wants to thank Gary Corbett for sharing more great Eric Carr memories and we look forward to his next appearance. We hope you enjoy Eric Carr Remembered with Gary Corbett Pt2 and SHARE with a friend!
Click Here To Listen To Podcast