With a discography that covers just about every genre you can think of, Gary Corbett has become one of the most sought after keyboard players in the Nashville music scene. Best known for his work with Cinderella, Gary's long career has paired him with artists like Kiss, Chris Cagle, Deborah Gibson, all of Bob Marley's sons, and won him a few Grammy's along the way. A passionate user of Sonoma Wire Works' products, and a true friend of the company, Gary took time out of his touring schedule to let us know how in love he is with DrumCore 3.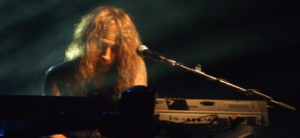 You use a lot of Sonoma Wire Works' products. Which ones are you using right now?
Well, I'm using RiffWorks and DrumCore. I've got FourTrack on my iPod Touch, but the iPod doesn't have a mic built in, so I haven't used it too much.
You're probably best known for your work with Cinderella, but what are some other bands you've worked with?
Oh boy, I've worked with Kiss, Cyndi Lauper with whom I cowrote "She Bop", Lou Graham, Deborah Gibson, Taylor Dane, all of Bob Marley's sons, Chris Cagle, a lot of different people through the years. I've got two Grammy's for work I've done with the Marleys.
You do a lot of different genres. Did you have musical training or do you work by ear?
I started taking musical lessons when I was four years old until I was twenty one. I'm not happy unless I'm doing a variety of things. I always have to do different styles. When I get a job with someone, I immerse myself in that style, and I'll do this until it becomes second nature. Truth of the matter though, I grew up in the 60's and 70's when pop music was a much broader genre. You'd hear Grand Funk, then the Supremes, then Jimi Hendrix, and then Paul Anka all on the same station. Styles have gotten so segmented now that you don't hear any variety on the radio.
What are your plans this year?
I'm playing Rocklahoma with Cinderella. In June we are playing several festivals before our US tour starts. We are doing a bunch of dates with The Scorpions, and headlining some shows as well.
How involved are you in the production of records?
My role could be anything from just playing keyboards to producing and playing everyone instrument. I've produced records of Deborah Gibson, TV commercials for Martha Stewart's K-Mart products, lots of different things. Other times, I'll just be brought in to play keyboards or program drums.
You've worked with several different companies and with several different programs. Do Sonoma Wire Works products stand out in any way?
I've just recently gotten into DrumCore and that is definitely standing out to me. I absolutely love it. It's a great time saver and these days most people have studios in their homes but they can't adequately track drums. My personal home studio is the same way, I can do everything but record live drums. To be able to put together a drum track with DrumCore and have it sound so good is priceless to me. Programming drums from scratch with drum machines is difficult and time consuming. DrumCore eliminates a lot of that. RiffWorks is a great program as well. It's more geared towards guitar players than keyboard players, but I can see how guitar players could use it a lot.
Can you see DrumCore as your go to program for beats on your finished productions and not just demos?
Absolutely. It's a real person playing the drums. I would use those drums on any product that I am doing, from demos to music for a commercial. The drum tracks I come up with using DrumCore are perfect for any application.
Interview by Daniel Codella conducted on August 12, 2010.
https://www.sonomawireworks.com/artists/garycorbett.php